Lunch & Learn:
"Walkway over the Hudson:
From Railroad Bridge to State Historic Park"


Thursday, May 24, 12:30 PM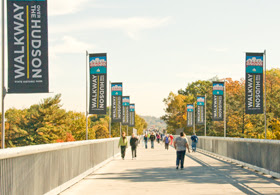 In October 2009, the Walkway Over the Hudson State Historic Park opened as a legacy project of the Hudson-Fulton-Champlain Quadricentennial. The park provides access to the Hudson River's breathtaking landscape for pedestrians, hikers, joggers, bicyclists, and people with disabilities. The bridge deck stands 212 feet above the river's surface and is 6,768 feet (1.28 miles) long, making it the longest, elevated pedestrian bridge in the world. Come and hear the story of this amazing project, from an abandoned relic to a popular tourist attraction.
Lunch is provided by the library. If you would like, you may bring a dessert to share. We can accomodate a limited number of people for lunch. All are welcome to join us for dessert and the lecture at 1 PM. Call 266-5530 to RSVP or register online.
Part of our Optimistic Aging series.